Organic chemistry study tips, you must know these before you start to study your organic chemistry. If you are here, you are definitely struggling with your Organic Chemistry and luckily you are not the only one. Many students find Organic chemistry hard and give up studying, but it's not hard if you focus and study well with some tricks. In this post, we are going to provide 9 organic chemistry study tips that actually help you to study organic chemistry in a better way and which are worth considering.
Organic Chemistry Study Tips
Let's describe very important study tips to improve your organic chemistry knowledge and marks in your exam as well.
1. Know the Syllabus
It's really important that you know what you need to study and have kept the topics in mind. In this way, you know what you don't know. And knowing what you don't know is really important to start studying in an organized way. You will be able to gather all notes, pdfs & other required materials for organic chemistry.
2. Don't Stop Reading
Don't STOP READING doesn't mean you have to study 24/7. It means you have to study an hour daily without any pauses. Study a little bit but daily. If you take a few days break you start going into your comfort zone, which is not going to help you in achieving the marks you need.
3. Make Organic a Priority
If you are struggling in Organic Chemistry than others, you should make it a priority over the other sections/subjects. Giving more time to Practicing and reading organic chemistry will definitely going to help you to survive organic chemistry.
4. Read Basic Before Class
Reading a basic concept of the chapter yourself before the class will help you to engage with that lecture more than anything else. It will make your class more interesting and you will start understanding more about the chapter.
5. Read FAQs More
Reading Frequently Asked Questions help you to know the important topics and questions of the organic chemistry chapters. Eventually, You will start recognizing the important questions for the tests. Not only that, after reading some chapters you must go through some organic chemistry quizzes to recall basic important points.
6. Try to Understand instead of Memorizing
If you are not a person with a good memory, don't worry because memorizing everything is not even possible. Memorizing things is not what the toppers do for doing great on exams. They try to understand the topic deeply and memorize only some keywords. So you need to understand the topic more. Youtube videos or lectures on that topic in your native language can help you in understanding that topic more.
7. Improve Yourself from your Mistakes
Recognize your mistakes, work on them and improve them. For example, if I don't understand some topics even if I tried hard, I will check what may be the reason. It may be because I wasn't paying attention to the topic which reading. Or maybe I didn't have the basic concepts of that topics. Once we know our mistakes, we can work on them to improve them.
8. Practice STRENGTHS before the Exams
If you are near to the exams, I recommend you to work on your strengths than your weakness.
9. Summarize Notes
Make summarized notes of every topic so that you can recall the topics On-the-Go and fast whenever you need them. Once you understand the topic and make summarized notes, you can just read the keywords on the notes to read faster than anyone else. This method works like a charm when you get used of it.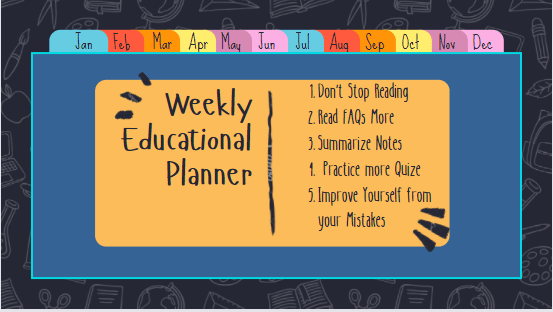 At last, I wish a very good luck & Be confident and don't forget to sleep well.