96 well plates are generally one kind of microplate having an arrangement of 8×12 well. 96 well plates are used in the microplate reader to determine different Phytochemical tests, TPC, TTC, and TFC based on absorbance and fluorescence. Well, plates are named so that it has a well-shaped space for sample poring. High Throughput Screening (HTS), sample storage, cell culture, and DNA extraction involving huge sample sizes are all intended for 96-well plates. This substance has excellent chemical and high-temperature resistance.
96 well microplate
A microplate, also called a microtiter plate (Microtiter is a registered trademark in the United States; as such, it should not be used without attribution), a microwell plate, or a multiwell is a flat plate containing numerous "wells" used as tiny test tubes. In analytical research and clinical diagnostic testing laboratories, the microplate has established itself as a standard tool. Enzyme-linked immunosorbent assays (ELISA), the foundation of the majority of contemporary medical diagnostic testing on both people and animals, are used often.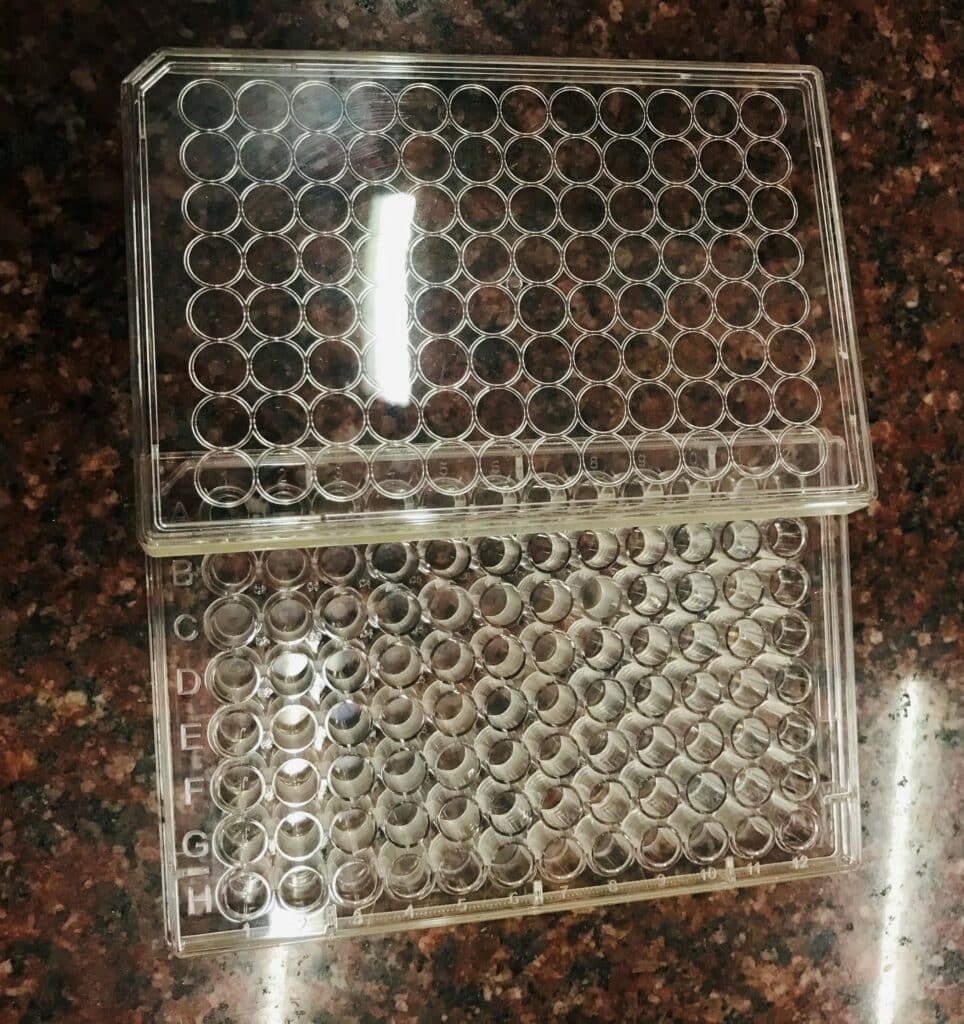 Arrangement of 96 well plates/ Dimensions
The dimensions of the 96-well standard microplate are 127.71 mm in length, 85.43 mm in width, and 14.10 mm in height. For simple cell identification, the 96-well standard format microplate comprises 12 columns (1–12) and 8 rows (A–H).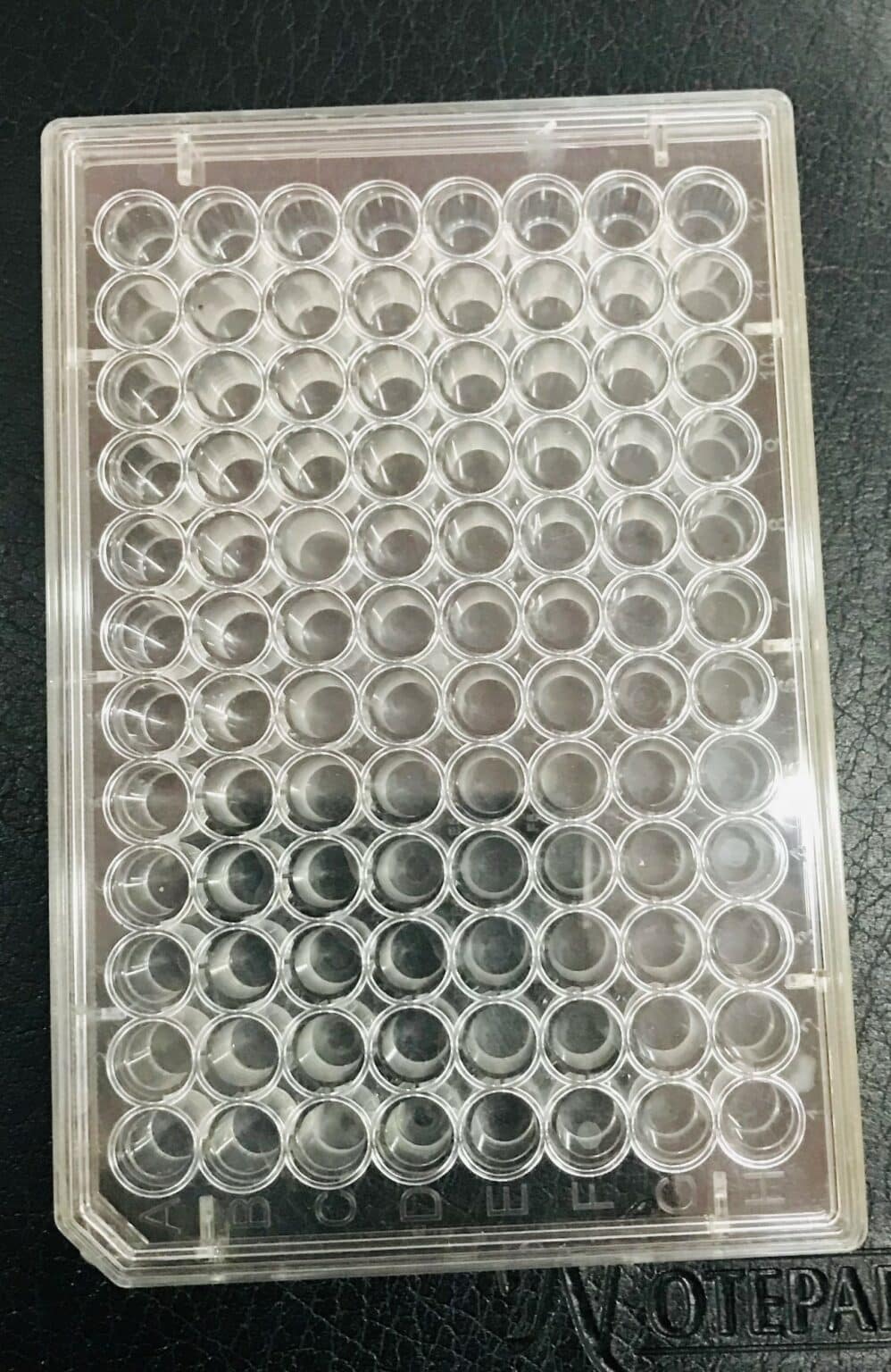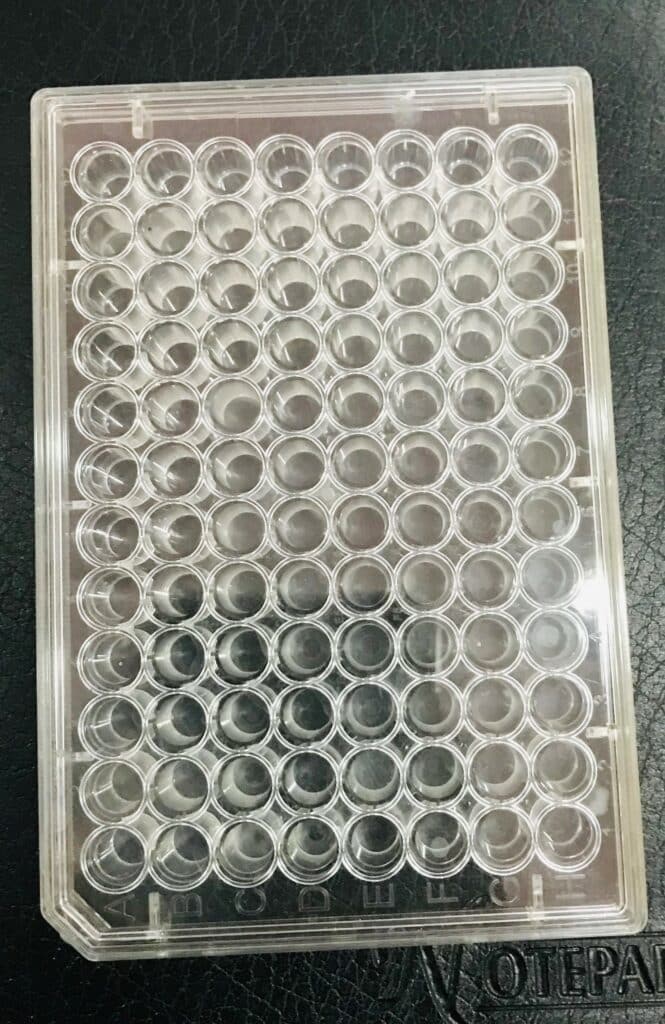 Raw materials used to make 96 well plates
There are four different types of materials: quartz, poly-D-lysine, PVC, and polystyrene. In the manufacture of 96 well plates, polystyrene is frequently used. However, due to its poor chemical stability, polystyrene is susceptible to corrosion from strong acids, alkalis, and anti-grease as well as dissolution by a variety of organic solvents (such as aromatic hydrocarbons, halogenated hydrocarbons, etc.).
Types of 96 well plate
There is various type of microplate with 96 well. Some are detachable types while some are non-detachable. Flat and round bottom types of 96 well plates. The flat is generally used in cell culture. Round bottoms are used in cell-cell interaction types of lab work. There is a variety of bottoms included in well plates. Like
F-bottom which are most commonly used. U- bottom, which is used for good mixing. V- bottom which is used in microtiter and C- the bottom is a flat center with rounded corners.
96 well plate volume
They are found in different ranges of volumes they can hold according to height and geometry. Different heights and geometry are based on good volumes. For example, Chrom tech offered 96 well plate volumes of 2mL, 1mL, and 350 microlitres. Biomat's 96 Wells Strip Plates are offered with different Well capacities: 350 μl
96 well plate washer
In order to clean the microwells for the ELISA testing procedure, a microplate washer is used. The use of a high-quality ELISA Reader and washer is crucial for the effectiveness of the ELISA test kits and the dependability of the test findings. For front-loading units, typical washer and dryer dimensions are 27 inches wide, 39 inches tall, and 32 to 34 inches deep. Top-loading washers and dryers, on the other hand, are normally 27 inches broad, 42 to 44 inches tall, and just slightly deeper (27 to 28 inches).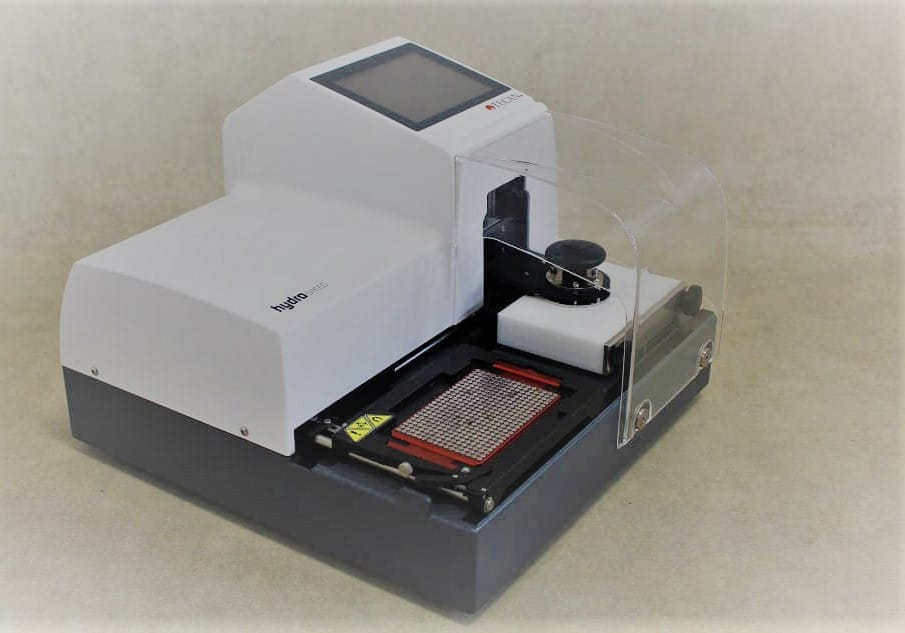 Black 96 well plate
Use Thermo ScientificTM Black 96-Well Immuno Plates to perform quantitative and qualitative immunoassays, including ELISA and binding assays. These plates reduce the background in fluorescence reading with a choice of three surface types and excellent binding.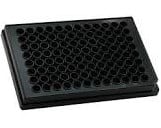 Uses of 96 well plates
The adsorption of antigens, antibodies, or antigen-antibody complexes relies heavily on the solid-phase polystyrene surface as a carrier.
A variety of mechanisms, including passive adsorption through hydrophobic bonds, water/ionic bonds, covalent bonding through the introduction of other active groups like amino and carbon groups, and hydrophilic bonding after surface modification, are used to adsorb antigens, antibodies, and other biomolecules to the surface of the carrier.
Used in multiple experimental platforms, including PCR, ELISA, ELISA-PCR, Lateral Flow Assay, DNA extraction, cell culture, and scientific study.
MCQs/FAQs
What is the use of 96 well plates?
For sample preparation, high-throughput screening, or more generally for the examination of biological features, analytical products called Well-Plates are used in the fields of chemistry, biology, and biotechnology. Well-Plates are rectangular plates with a lot of separate wells.
What is the principle of 96 well plates?
The microtiter plate assay, commonly known as the 96-well plate assay, is a technique that enables the observation of bacterial adhesion to an abiotic surface. In this assay, bacteria are grown in 96-well microtiter plates with a vinyl "U" bottom or another form of the bottom.
How much can 96-well plates hold?
When combined with sticky films or foils, the 96-Well Non-Skirted Plates from Thermo Scientific may accommodate up to 0.3 mL of wells volume for PCR and qPCR applications.
What is 96 well PCR plate?
96-well PCR plates are multi-well plastic microplates that can withstand heat and are used in real-time (qPCR) thermocyclers or PCR machines. These plastic items may be skirted, semi-skirted, unskirted, clear, colored, or barcoded, among other formats.