Ozonolysis of alkenes, alkynes, benzene, and cyclohexene has been discussed with mechanisms in this blog.
Many reagents can be added across an alkene to completely break the carbon-carbon double bonds. One such reagent is Ozone(O3) and the corresponding reaction is known as ozonolysis. This reaction is useful as a synthetic tool as well as a method of determining the location of double bonds in an alkene.
Ozonolysis of alkenes
When alkene reacts with ozone, ozonide is formed initially which on hydrolysis in presence of reducing agents such as Zn/H2O or dimethyl sulfide gives aldehydes or ketones as products. The function of reducing agents, which is frequently Zinc dust, is to prevent the formation of hydrogen peroxide, which would otherwise react with aldehydes and ketones and converts them to carboxylic acid.
The carbon-carbon bond is entirely broken, resulting in two c=o bonds. The ozonolysis of an alkene is shown below.

Ozonolysis of alkenes mechanism
The ozonolysis of alkene takes place in two steps. In the first step, ozone is added to the double bond to form an initial, primary ozonide, also known as molozonide. This compound is very unstable and hence undergoes rearrangement to produce a more stable ozonide. It is thought that the rearrangement occurs with the dissociation of molozonide into reactive fragments, which then recombine to create ozonide.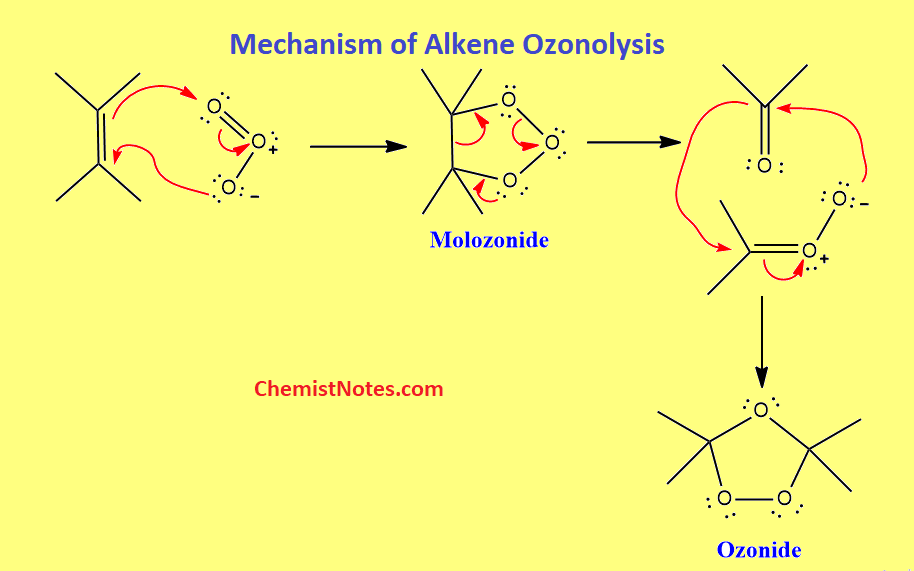 In the second step, hydrolysis of ozonide takes place and different products may be formed, depending on the particular reaction condition. On the basis of reaction conditions, ozonolysis can be further classified into two categories.
Oxidative ozonolysis
Reductive ozonolysis.
Difference between reductive and oxidative ozonolysis
The hydrolysis of ozonide in presence of reducing agents such as Zinc dust or dimethyl sulfide is known as reductive ozonolysis. In this type, aldehydes and ketones are formed as products.
The hydrolysis of ozonide in presence of H2O2 is known as oxidative ozonolysis. In this type, already-formed aldehydes and ketones are converted to carboxylic acids.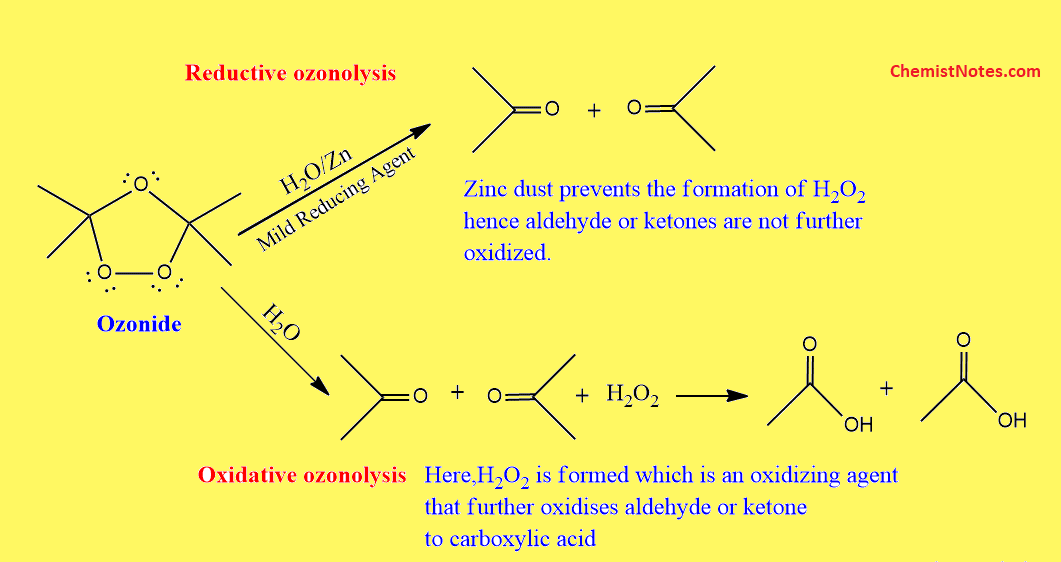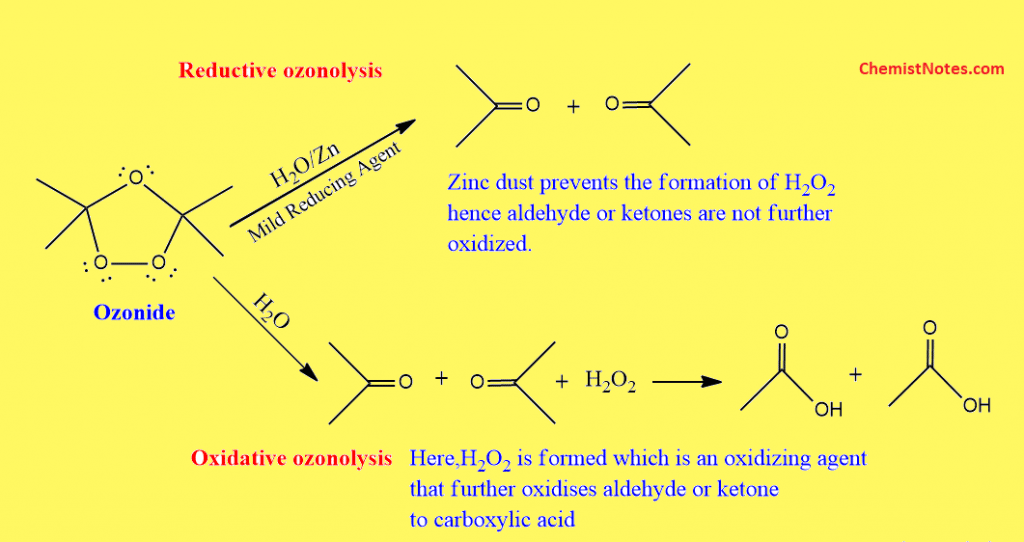 Ozonolysis of alkynes
When ozone is passed through a solution of alkynes dissolved in solvents like chloroform, carbon tetrachloride, etc, an additional product called ozonide is formed which on distillation with water in presence of zinc dust gives 1,2-dicarbonyl compound.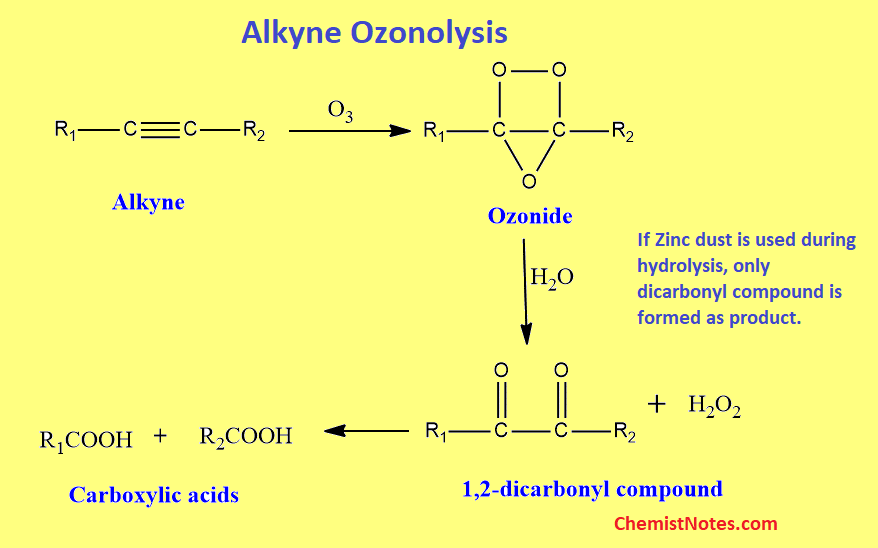 Alkyne ozonolysis mechanism
The mechanism of alkyne ozonolysis is shown below.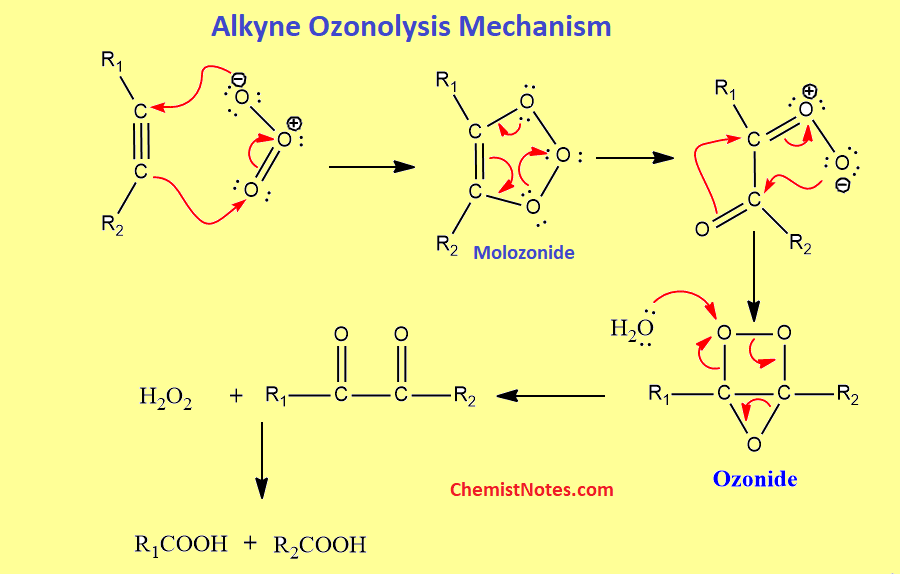 Ozonolysis of cyclohexene
Cyclohexene on Ozonolysis followed by a reaction with zinc dust and water gives hexanedial. But Cyclohexene on ozonolysis followed by reaction only with water gives hexanedioic acid, also known as adipic acid.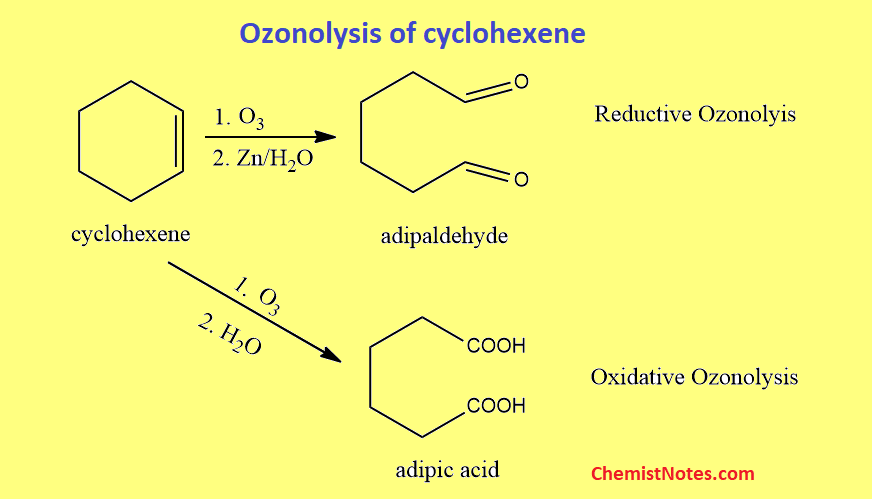 Draw the ozonolysis product of cyclooctene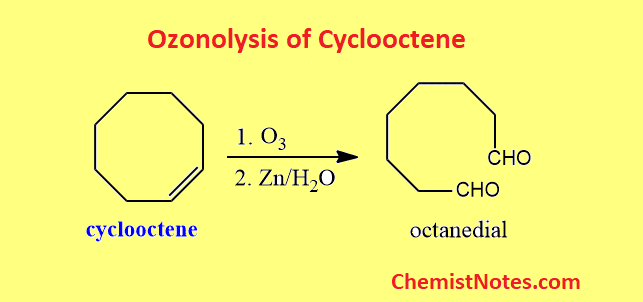 Ozonolysis of benzene
Ozone reacts with an aromatic molecule such as benzene much more slowly than it reacts with an alkene. Three moles of glyoxal will be produced by complete ozonolysis of one mole of benzene with workup under non-oxidative conditions.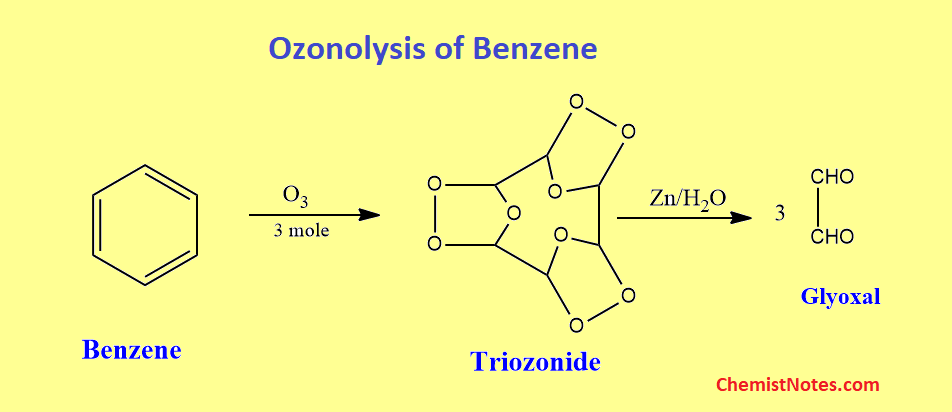 Other examples of Ozonolysis
2-methyl-2-pentene ozonolysis

Ozonolysis of hexene

Ozonolysis of cyclopentene

Ozonolysis of 2-butene

Ozonolysis of 2-methyl-2-butene

Ozonolysis of 2-butyne

Ozonolysis of acetylene

Ozonolysis of pentene

Ozonolysis of propyne

Application of ozonolysis
It is used to prepare aldehydes and ketones from alkenes.
It is useful to locate the position of double bonds in organic compounds. For example, an organic compound X has molecular formula C6H6 which on ozonolysis gives propanal. This indicates that a double bond is located between C3 and C4.