Endotoxin and exotoxin are the two forms of toxins that the bacteria produce to target other bacteria or host cells. The virulence components of bacteria that alter host cell function are called toxins. It can be used for creating biological weapons. They are often proteins or peptides that are produced by either gram-positive or gram-negative bacteria or microorganisms.
Generally, there are two main categories of toxins, and they are:
Endotoxin
Endotoxins (Endo + toxin = cell-associated toxin) are lipopolysaccharides that are secreted by bacteria or other microorganisms and are only released into the environment when they die. It is an essential component for the survival of bacteria.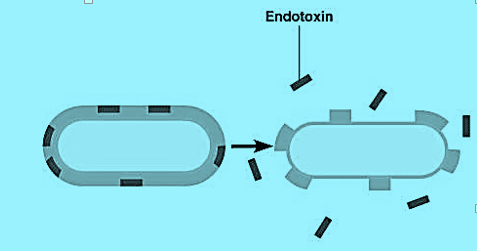 Endotoxin is a substance found in cells and on chromosomal genes. Compared to exotoxins, they have a modest level of toxicity. Gram-negative bacteria typically produced them. Endotoxin typically ranges in molecular weight from 50 to 1000 kDa. In contrast to exotoxins, they are heat stable and have higher endotoxin enzymatic activity. Fever, vomiting, and diarrhea are just a few of the common symptoms that a person may have from an endotoxin.
An endotoxin has three components; Lipopolysaccharide (LPS): Lipid A moeity, the highly conserved core polysaccharide, and the species-specific O-antigen.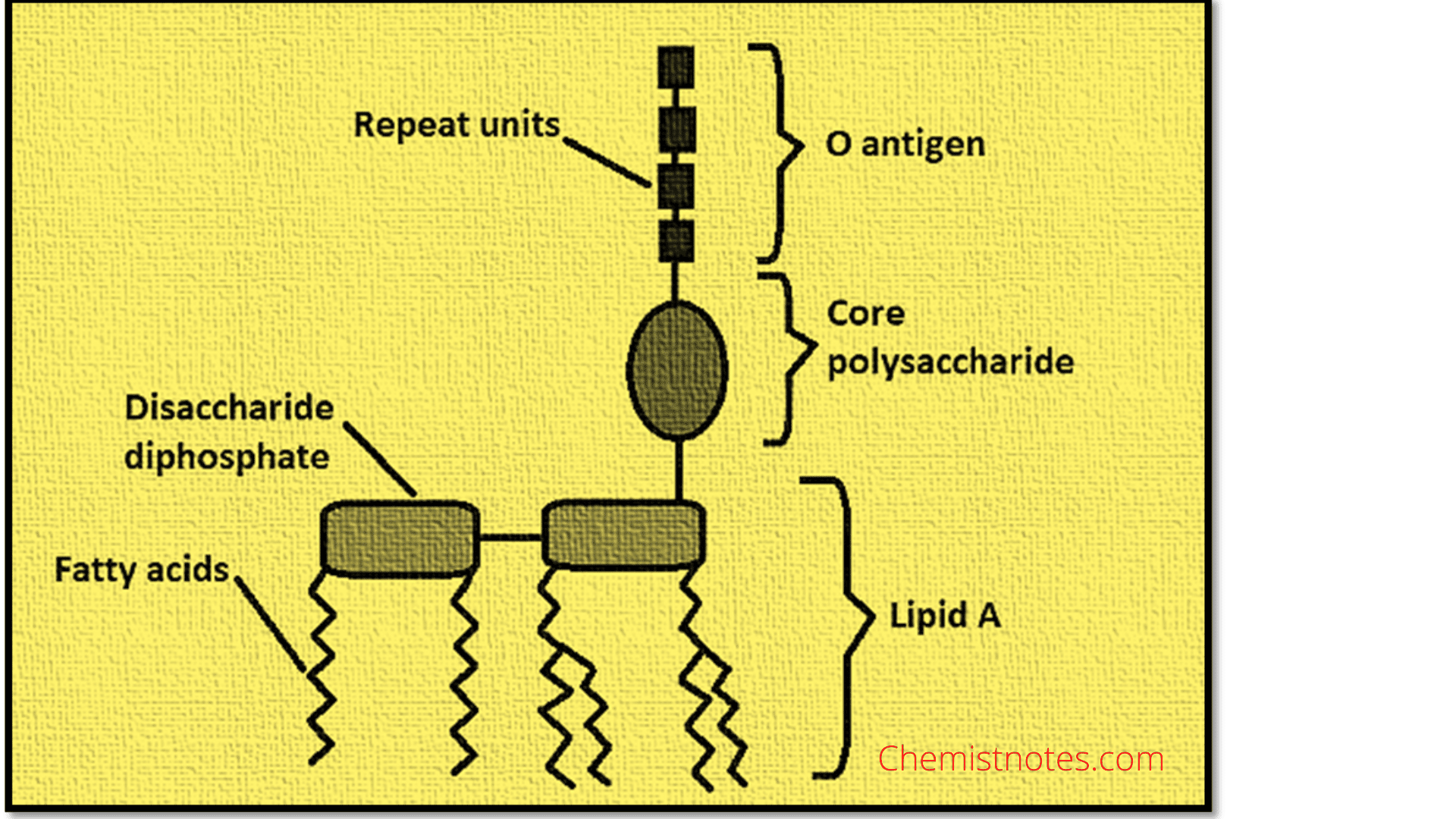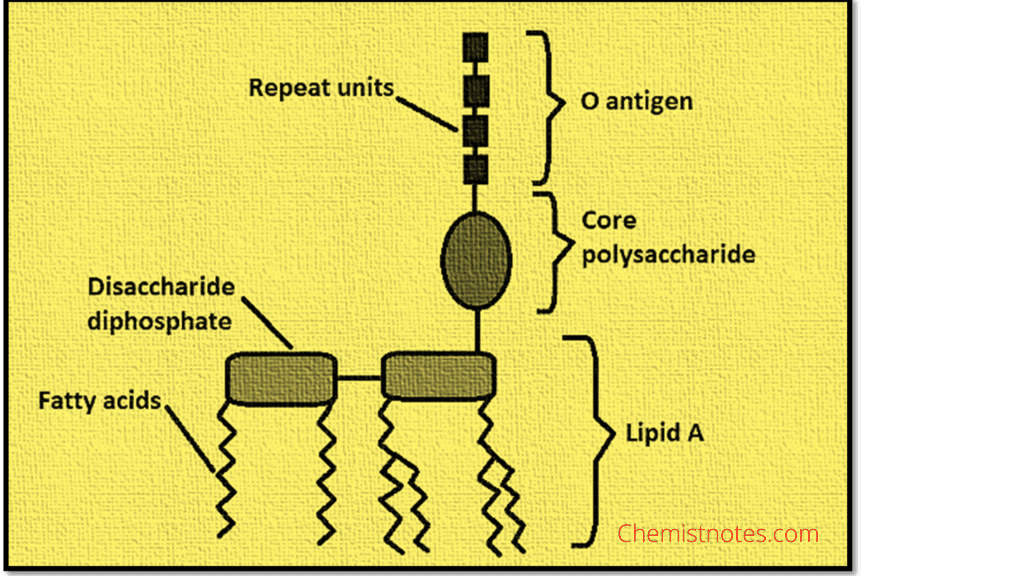 Some examples of endotoxin are E.coli, Shigella, Salmonella typhi, and Vibrio cholerae.
Exotoxin
Exotoxins (Exo+ toxin= outside of cell) are polypeptides that bacteria produce in their surroundings. These are usually proteins and act enzymatically or through direct action through the host cells and stimulate a variety of host responses.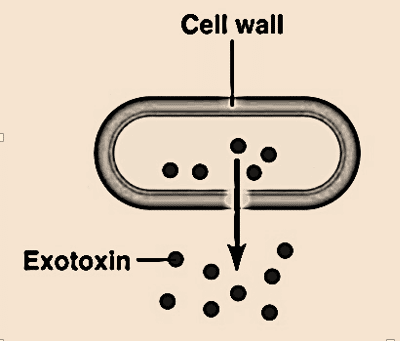 Exotoxin is a substance that is typically found on extrachromosomal genes ( plasmids). These are produced by gram-positive bacteria, which makes them extremely toxic and hazardous. They have a molecular weight of roughly 10 KDa, are heat labile, and lack enzymatic activity. Exotoxins are highly immunogenic, filterable, and can be neutralized by antibodies. Moreover, it may play role in invasion. General symptoms shown by them are cytotoxin, neurotoxin, and enterotoxin.
Some examples are Streptococcus pyogenes, Bacillus cereus, and so on.
Difference between Endotoxin and Exotoxin
Below table shows the differences between endotoxin Vs exotoxin:
Characteristics
Endotoxin
Exotoxin
Location
It is located on
chromosomal genes.
It is generally located on
extrachromosomal genes
(plasmids).
Molecular size
Approximately
50-1000KDa
Approximately 10KDa
Sources
Produced by gram
negative bacteria
Produced by gram-positive
bacteria
Structural composition
Generally consisting of
three elements: lipid A,
Core oligosaccharides
and O- specific
polysaccharide also
called antigen-O
It generally consists of an
amino-terminal domain
composed primarily of
antiparallel beta structure.
Thermal stability
Heat stable
Heat labile
Enzymatic activity
Enzymatic activity is
high.
No Enzymatic activity
Toxicity
Moderately toxic
Highly toxic
Potency
For toxins to cause diseases,
a lot of them are needed.
Numerous host species can
be affected by a single
poison molecule.
Enzymes present
Catalase, fibrolysin, lgG
proteases
Hyaluronidase,
collagenase, nuclease, certain
proteases
Symptoms
Fever, diarrhea, vomiting
etc
Cytotoxin, Enterotoxin and
Neurotoxin
Chemical nature
They are composed of
lipopolysaccharide.
They are composed of
polypeptide protein.
Resistance
Weakly immunogenic
Highly antigenic
Binding properties
Specific receptors not
found.
Usually binds to specific
receptors.
Denaturation
Cannot be
denatured on boiling.
Gets denatured on boiling.
Diseases
Meningococcemia,
sepsis, etc.
Tetanus, botulism, etc.
Immune response
Immune response is
comparatively weaker.
Stronger ability to trigger
immune response.
Conversion capacity
It can't be converted into
toxoids.
It can be converted into
toxoids.
Vaccines
No effective vaccines
available.
Effective vaccines are available.
Examples
E.coli, Vibrio cholerae,
Salmonella typhi, etc.
Bacillus cereus, Bacillus
anthracis, staphylococcus
aureus, streptococcus
pyogenes, etc.
Published by: Pratiksha Chaudhary (Chemikshya)
Endotoxin and Exotoxin Video
FAQs
Difference between toxin and poison
Poisons are substances that harm living things when enough of them is absorbed, inhaled, or consumed. A toxic chemical produced by living cells or creatures is referred to as a toxin.
Which is more heat stable, endotoxin or exotoxin?
Endotoxins are heat stable.
Which is highly toxic, endotoxin or exotoxin??
Exotoxins are highly toxic.
Are Exotoxins gram positive or negative?
Exotoxins are gram-positive.
What kind of cell produces endotoxin?
Endotoxin is produced by gram-negative
Is salmonella endotoxin or Exotoxin?
salmonella is enodotoxin.
Size of endotoxin?
The size of endotoxin is 50-1000 kilo Dalton.